Here at Multitool.org we pay close attention to industry trends and changes to legislation that could impact our Members. As always, we promote the safe and enjoyable use of multitools, fixed blades, folding knives, one piece multitools and more.
A Canadian love affair with folding knives.
Many of our Members are campers, hikers and general outdoorspeople. We use folding knives as tools for our everyday life - as useful extensions of ourselves. Folders (folding knives) are extremely popular for a multitude of reasons, especially safety and convenience.
Although extremely popular, fixed blades have been known to pop through a leather sheath or two, but a folder tucks neatly inside itself for safety's sake. Their modest size makes them the perfect carrying knife for cutting up apples on a hike, to cutting a piece of rope while setting up camp.
One handed opening folding knives are extremely convenient for the busy Canadian camper. Cold, wet hands can making opening up a traditional Swiss Army Knife quite difficult. Whereas one-handed opening blades like the Victorinox one-handed Trekker are simple and efficient.
This week, the Canadian International Trade Tribunal (CITT) rendered a decision in Appeal No. AP-2017-012, T. LaPlante v. President of the Canada Border Services Agency regarding knives which open automatically by centrifugal force (centrifugal knives).
Why this decision matters.
CBSA has modified their prohibited weapons classifications to include a very large selection of folding knives. And they're calling them 'folding knives' by name! Not just 'centrifugal or gravity knives'. That means, that this large selection could no longer be legally imported into Canada. It's also worth speculating that they could become prohibited weapons by law in the future. This is setting precedent.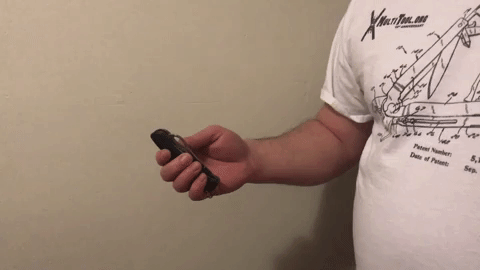 The new definition states that centrifugal knives will be classified as prohibited weapons if the following conditions are met:
A) a knife has a blade that opens by centrifugal force, when the blade is released from the handle into the fully ejected and locked position with a simple and brisk outwardly flick of the wrist; and
B) it includes knives that require some preliminary or simultaneous minimal manipulation of either a flipper or other non-edged parts of the blade.
But what does it really mean for folding knives in Canada?
When you look at point 'A' it doesn't cause much of a concern. But "B" changes everything. A non-edged part of the blade could include an opening thumb hole or a stud. It could mean that you gently released the blade yourself with your thumb along the side of the blade. Once released, many if not most folding knives will open easily or after 2-3 tries with a 'brisk outwardly flick of the wrist'. The full CITT decision allows for multiple attempts. We are extremely concerned that the majority of folding knives in Canada will be classified as prohibited weapons as this new definition lacks specificity.
We tested the CBSA definition on common folding knives – the results weren't good.
We went through our vast collection and tried out many folding knives found at Canadian Tire, Cabela's and other popular stores. Of course, some folding knives were easier to open than others. But once you add the definition of knives 'that require some preliminary or simultaneous minimal manipulation of either a flipper or other non-edged parts of the blade' - almost all of the folding knives we tested failed the test.
For example, the popular Swiss Army Knife, the Victorinox Trekker or the Forrester M Grip (seen in the gif) failed the test and would be classified as prohibited based on the CBSA definition. With a very slight manipulation of the thumb hole, and with a 'brisk outwardly flick of the wrist' the knife blade locks into place. We also tested the Pictou, NS Canadian-made Grohman R300S Lockblade – it failed the test and would be classified as prohibited as well.
Multitool.org's stance on the CITT decision and CBSA notice regarding Centrifugal Opening Knives
We believe that the CITT decision and CBSA notice do not reflect the Canadian government's intention or the spirit of the law.
The Criminal Code of Canada classifies a prohibited weapon (knife) as ' a blade that opens automatically by gravity or centrifugal force or by hand pressure applied to a button, spring or other device in or attached to the handle of the knife'.
And we firmly believe that the spirit of this law is to protect Canadians, especially law-enforcement. We do not believe that Canada's Parliamentarians would call for a ban on basic folding knives which are so popular from coast to coast to coast.
What can we do?
Continue to be law-abiding users of the tools you own. If you're in Canada, reach out to your Member of Parliament and let them know your concerns. Let them know that you believe the CBSA notice does not reflect the spirit of the Criminal Code of Canada.